Product Description
eeZee Mouse
The eeZee Mouse family is the world's easiest, most cost effective body sensor computer control device for hands-free operation. The mouse can be operated by any body part the user is able to use, from the top of the head to the foot, or anywhere in between.

The eeZee Mouse, a third generation product, raises the bar for computer access. Three user friendly models use a revolutionary, miniature motion sensor to provide fully proportional cursor control. A few easy adjustments give users control of key features, while keeping operation simple.

While the concept of a "head-mouse" is not new, the eeZee Mouse's approach and implementation are.
Operation
The eeZee Mouse is platform independent, compatible with all hardware and software programs, and requires no computer processing resources that can degrade the performance of programs being run. The eeZee Mouse comes in three versions:
eeZee Mouse PRO

Click via microphone (not included -

order here).
eeZee Mouse SWITCH

Click via external switch(es) (not included -

order here).
eeZee Mouse CURSOR

No clicking. Requires switch(es) and switch interface (order here).
(Be sure to select a model below.)
Hardware Devices
Compatible with ALL hardware and software
Uses NO computer processing resources
Platform independent (PC, Mac, Unix, desktop, notebook)
SGD compatible
Quick, easy setup - just plug in and go!
Features
Hands-free design
Virtually unlimited mounting positions
Works with all existing mice, touch pads, trackballs, etc.
Compatible with all software

products
Compatible with all hardware devices
Stylish desktop unit
2 year warranty
Patent pending
CE certification
ROHS compliant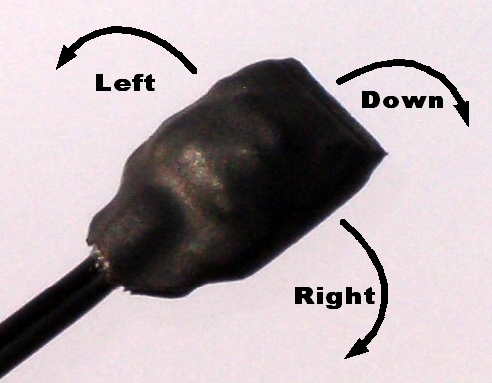 Weighs less than 2 grams.
The eeZee Mouse requires a computer with a USB port, and a mount for the body sensor. Clicking requires a microphone or switches.
Product Videos
Custom Field
Product Reviews